How it works…
Tuesdays:    Some ideas invite us to  celebrate sacred, compassionate, creative  lives.  Each month, I scout through a theme and report my journey back to you. Reaching toward an Ideal makes the monsters restless and out they come, trying to convince me it's all a Bad Idea  and I am Not Good Enough.  I develop  and refine tools and practices  to help me turn it into a dance and on we go.  Here's a video sketching my themes for 2013.
Subscribe to my newsletter to get  the theme journey summarized with suggestions for Creative Experiments, Daily Practices and ways to Fill Your Cup.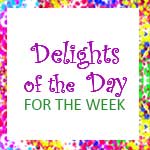 Fridays: For several years, I've been practicing what I call The Delight of the Day. Each day I watch for moments that inspire a strong feeling of gratitude and  joy within me.   I mentally label the strongest such moment The Delight of the Day.  The practice encourages what psychologists call "positive scanning."  I'm waiting for good things to happen  and, when they do, I notice and celebrate them.
I invite you to play along.
15th of each month:    Each  month, you get one Big Idea, one  video to watch and one printable – all collected to provide tender morsels to nourish your creative muse.